Mission
We are a 501(c)(3) organization dedicated to serving families and communities impacted by incarceration, poverty, academic and economic barriers by providing educational programs, self-help, reentry support, housing and youth violence prevention services.
With your help we can make a difference. Learn more and get involved.
We have been a vital part of our community for a number of years. We were founded to serve the growing segment of our community - prisoners reentering society - in need of inaccessible services. We have continued to grow with the help of our donors and volunteers. Through all these years our purpose still remains the same: bring services to those in need. Our aim is to empower both our youth and adult members of the community and their families with educational tools, resources, positive influences, skills development and leadership training in order to keep them on a path that will guide them to success, steering clear of the path that leads to prison.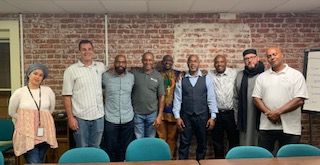 Did You Know?
The Timelist Group is a non-profit 501(c)(3) community based organization whose founding members have the lived experience of incarceration. Our front-line team is made up of the those who experienced reentry firsthand. 90% of our personnel and volunteers are individuals with lived experience, who are now learning business administrative skills, leadership skills while gaining hands-on training which has proven to produce the best results for ending mass incarceration, lowering crime and reducing recidivism.
Based in Los Angeles, we also have a satellite presence base in the San Francisco Bay Area where we focus on providing in-custody programing to the incarcerated persons we serve. We also have a curriculum designed to support high-school-aged, at-risk youth. Some participants are under the supervision of county probation departments. We encourage parents and school district administrators as well as juvenile probation departments and correctional facilities to reach out to us. We are able to provide on-site and off-site programing.