Who Are The Alumni?
In 2007, the group, headed by Yusef-Andre Wiley, decided to approach Avenal State Prison administrators with a proposal to establish the group as a legitimate program recognized by prison officials. We called our program Timeless – A Lifer Support Group. As interest around rehabilitation grew, Timeless opened its workshops to the entire prison population and eventually parolees. Through the curriculum we created and the work the participants put in, we discovered if a person is willing and able to think critically about his/her life and the world around, he/she will realize "it is never too late to change."
So, who are the alumni? These are the very men that form the moral conscience and culture of Timelist. They represent leadership building blocks and blue print for other Timelist members to follow and replicate in their community. All alumni leaders are former lifer's who hold key leadership positions in the Timelist Group operations. Today, the alumni continue to train and develop new leadership within the program that have completed all of the necessary courses during and after incarceration.
Public Speaking Engagements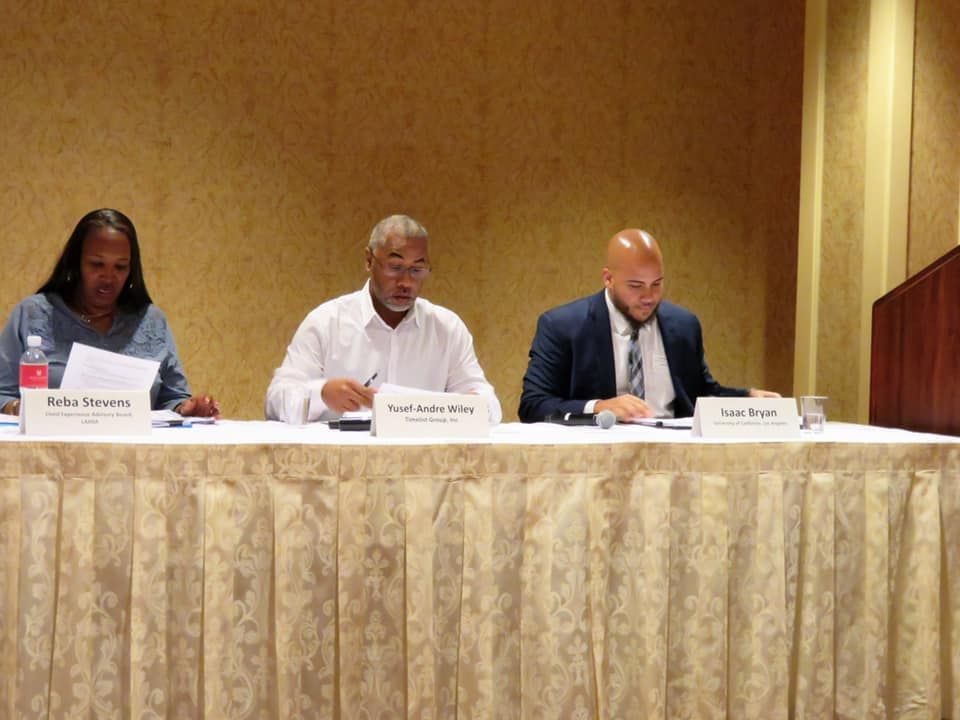 Trauma Informed Security [Training] Prepare and equip your security team with the necessary tools needed for de-escalation and prevention 
Curriculum Development [Training] Empower your clients/members with the educational tools that will enable them to lead productive lives
Coaching Models [Training] Engage and empower both your personnel and clients to be leaders through self-discovery that is designed to build self esteem, self-awareness and much more ...
---
We are also available for:
Motivational speaking engagements and seminars
Send Speaking Engagement Request to:
Tel: (213) 444.9301 | info@timelistgroup.org | You can also find us on INSTAGRAM and TWITTER @timelistgroup
---
Biographies of the Alumni
Earl Simms the Regional Director for the Timelist Group Bay Area chapter. A now Certified Life Coach, who found his freedom through mindful meditation, and participating in the Timelist Group. He served 22 years in prison for the senseless murder of another African American young man in Los Angeles. Being a voice for Alfonzo, and to change the culture of separation among our community, is Earl's motivation and has made this his living amends to be a leading voice in the implementation of mindfulness and violence reduction practices in the communities similar to where he comes from.
From a lens of lived experience as a formerly incarcerated African American male, and a beneficiary of this transformative practice, Earl is purposeful and intent on demystify this meditation and healing practices to the populations he and Timelist serves.
Being a member of the Anti-recidivism Coalition, sitting on the FIA (Formerly Incarcerated Advisory) Board to the District Attorney's office of San Francisco (Gascon), facilitating town halls with the Department of Children and Family services, Member of the Timelist Group (Now Regional Director), and working with the intense violent cases in East Oakland through Oakland Unite, are all the bodies of work that have given Earl the opportunity to connect with individuals who have and could benefit from establishing healing and mindfulness practices. 
He looks forward to taking innovative approaches to address some of the ills that plague our community. Empowering and reducing the stress of the traumas that have left a wake of disconnect and fear, which make it challenging to come together as a collective to overcome challenges as one.
---
Cortez Chandler, better known as "Taz" was born in Zanesville, OH.  His father was a United States Navy Chief Petty Officer, and his mother was a stay-at-home mom. His parents raised their three children, of whom, Cortez was the oldest. The family migrated to Long Beach, CA in 1980. Throughout Mr. Chandler's youth and years of education, he attended California public schools. Mr. Chandler graduated from Millikan High School in Long Beach, CA. and played college football for Chaffey College in Rancho Cucamonga, CA.  In 1989, Mr. Chandler obtained his California business license and ran a successful auto detailing service until the summer of 1991.
Unfortunately, and regrettably, in the fall of 1991 Mr. Chandler was ordered by a judge to serve a life sentence in a California correctional facility. He served 24½ years and was released on August 19, 2015. In During his incarceration, he met Mr. Yusef-Andre Wiley of the Timelist Group, with whom he began to talk about life after prison and building the necessary skills to successfully transition. That meeting would change his life forever. Upon his release he was transitioned to the Amistad Foundation where he learned coping skills and much more taught through the Timelist programs. Being on Parole Mr. Chandler became a PRNN for CDCR. Using all the life skills that's Parole has helped him with. He wants to give back to the men and women so they able to reintegrate smoothly
Also, during Mr. Chandler's incarceration, he met his best friend, La Para, who became his wife when they married the very day of his release. They recently celebrated their 2nd wedding anniversary. Today, Mr. Chandler spends the bulk of his time being a great husband and helping other ex-offenders who have been released from prison to be successfully reintegrated back into society. Ironically, he now works for the Timelist Group's reentry program as the Director of Operation and runs their transitional homes. He is a dedicated and compassionate to helping other ex-offenders find their way in life and teaches them how to succeed after prison.
Mr. Chandler went back to the Avenal State Prison as a motivational speaker sharing what PRNN is all about, mine you this is the same prison Mr. Chandler paroled from.  further promote reentry and reintegration, wholeness of self and mind, financial literacy and entrepreneurship for ex-offenders as the Director of Operations at the Timelist Group.
---
Anthony (Shareef) Nix was born December 13, 1972 in Butler County, Alabama.  He is the second oldest and only boy to four siblings. Both parents, Dorothy Jean and Earnest Lee Nix, are natives to Alabama. They married out of high school. Subsequently, PTSD of his father's military tours caused his parents' divorce when he was very young. At age nine, he traveled with mother and sisters to Riverside California looking for a fresh start and new experiences.
Country born and city raised was his footing into what he now knows as a poor peer association; gang associate at eleven years of age. His entire teenage years was a cultural shock involving defiance of authority, fights, running away from home, living on the streets, juvenile hall, boy's ranch and ultimately prison for a life-term sentence at age nineteen. Behavioral issues plagued Mr. Nix up till Oct. 1995; ascribing the million man march dignified defiance of the ugly stereotypes that have defined African American people and values. He embraced orthodox Islam that same month.
In 2009, Mr. Nix got personally involved with the Timelist group as a regular attendee and eventually, facilitator of Timelist curriculum. His maturity and reformation accomplished a founding of suitability for parole twice within 20 years of incarceration.
He was released April 02, 2012; after serving 21 years of a life-term. He was 39 years of age. All the while, Mr. Nix developed bracing skills in conflict resolution, mentorship, collaboration, public speaking and restorative justice. In addition, Anthony Nix found the biggest inspiration toward citizenship in a loving wife and five stepchildren (2 months after release) at which he adores and love very much.
His early community work involved changing ways (a youth mentorship program) and restorative justice outreach. He presently the Director of Programs under the Timelist Group, Inc.
---
Charles Taylor was born on November 14, 1973 in south Los Angeles. To the mother of Augustine Hemphill and Father Charles Taylor. He was the second child of two, to his Mother and Father. He also had two brothers and two sisters from his father's side of the family. As Charles Taylor was raised in a single parent home with his mother and sister. His mother was battling a drug addiction and it became very hard to maintain proper care or supervision for him and his sister, that was dealing with mental health. Charles began to be passed around to different family members as he picked up bad habits from unstable environments that were gang infested. At the age of 10 years old, Charles Taylor move to the west side of Los Angeles with his father (In the neighborhood, call the Jungles). By this time Charles Taylor had already develop trust issues and resentment towards family. Charles started hanging around gangs by the time he was 13 years old. His father gave him an ultimatum to abide by the rules he set or for Charles Taylor to leave his home. Even though Charles Taylor loved his father, he knew he wasn't going to change. So, he left home the next day to fully join the streets. His father or Mother never came for him, so Charles continue to get deeper and darker into the gang life. By the age of 16 years old Charles Taylor had a daughter born into the world (Her name is Dynasty Taylor). Then three weeks later Charles Taylor went to jail for a gang related crime which he did 26 and half years for. Charles was paroled in September 2016 at the age of 42.   
During Charles incarceration he joined the Timelist Group in 2008 where he has participated in many workshops to make major improvements in his life which has led to him becoming a better father, mentor, and a productive human being. Mr. Taylor became a facilitator for the Timelist Group program that teaches a curriculum geared towards lifestyle changes that allows you to function, grow, understand, create, forgive, and embrace change on all levels. Since released, Mr. Taylor has been promoted to Program Manager for the Timelist Group that encompasses work with the reentry individuals, mental health and homeless population. Mr. Taylor is highly motivated to be a part of solutions where at one time he contributed to the destruction of his community.
---
Micheal Taahir Prather, born in Atlanta, GA was raised solely by his mother. At the age of 8 years old Micheal's mom picked up and moved to California in Long Beach where he grown up as a teen and was eventually influenced by the street gangs of the LBC. Micheal later became addicted to drugs and alcohol, his drug of choice being PCP. Micheal now being a gang found himself committing crimes and was arrested for homicide where he would end up serving 28 years inside California Department of Corrections and Rehabilitation. Several years into his sentence he met Yusef-Andre Wiley who was ex-gang member of rival gang (the Bloods), Micheals being a former 'Crip. The two developed a strong bond of educational pursuits, Islamic studies and interfaith activity bringing inmates of all faiths and ethnicity together for the sole purpose of reform and rehabilitation. In his own words: "Being a co-founder of Timelist Group is special to me. Those that enter our program and complete our courses often earn early parole dates and are granted parole through the Board of Prison Hearings (BPH) due to their rehabilitation. In many cases, prisoners going before the BPH have noted Timelist Group programs as the most meaningful of all they self-help and education work during incarceration. As more and more Timelist Group alumni parole and give back to our work in the community, the capacity we must help others expands. Whether incarcerated or not, if one does not set positive goals and have a sense of purpose, this is the worst state an individual can be in. One of our many accomplishments is having an extremely low recidivism rate among program participants.
I am extremely thankful and appreciative for the sincere effort of every member who has assisted me the growth and development this program. I've seen this group do a lot of things in a small amount of time, and I know that there is a great deal more to be done.  Timelist has kept me focused and goal-oriented, and I've experienced improvement in my communications skills and ability to pass this work on like in the movie Pay It Forward. I strongly believe the Timelist Group can make your community better. If you want this for your community, I ask of you to please step up and get involved. Now is the time!
Micheal Prather has since transitioned from in the San Francisco Bay Area and now resides in Stockbridge, Georgia with his wife. He is the Inmate Correspondence Specialist of the Timelist Group and employed at Costco Warehouse and on his spare time spending time serving the community hands-on, mentoring young people and writing letters of support to individuals inside Correctional facilities.
---
Speaking Topics
How Faith Can Change the Heart of an Ex-Offender
From Crime to Entrepreneurship
Life After A Life Sentence
Serving a Life Sentence while Maintaining Sanity
Keeping Our Youth Safe in an Unsafe Environment
Making Money with Inspiration
Building Youth Leaderships
Youth Advocacy that Works
Inside California's Worst Prisons
A Gang Members Confession
Curing the Heart of a Domestic Violence Abuser
Changing Your Lifestyle is Your Best Survival Strategy
How To Keep Your Team Inspired
Building Timelist from zero
The Inner Dimensions of Volunteerism
Giving the Unemployable Employment
How to Change the Life of a Convict
and more ...