Services
When you use our service you are helping to empower our community. We recruit and train the most dedicated, trauma informed individuals with lived experience to perform security and outreach duties. Therefore, we operate with purpose which makes it easy for organizations and agencies to work with us as a team. So, hire us today for security and/or outreach support!
Security and Community Outreach Support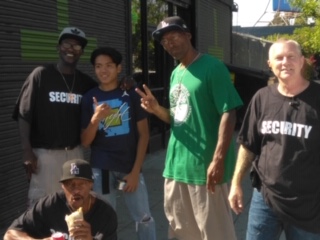 Security Guards
Regularly patrolling the premises
Monitoring surveillance equipment
Obtaining and facilitating help from first responders, (when needed)
Preventing losses and damage
Regular training's for security personnel through our training manual
Reporting and Strategic Planning
Coverage for special events
Security needs for shelters and other types of  homeless facilities
Community engagement and crowd control
Other Services
We are building our workforce development component with men and women who deserve a second chance who possess enormous talent that Timelist see as an asset to our community. Hence, these are the ares in which we are training our members. 
Janitorial Services
Case Management Services
Life Coaching (Peer to Peer)
Security Consulting
Contact Us Today for a Free Quote
Call: ​661.522.5493 or 323.629.5996