We work to raise awareness and help people affected by our cause.
Our success is measured in the number of people we can help with the quality of programs and services we provide. These programs are fueled by our dedicated staff, caring volunteers and generous donors like you.
The Core
Our goal is to advance this program wherever there is a need for it to help men, women, and youth reshape their lives to become productive individuals within society. The program begins while participants are incarcerated, and supports them through the reentry process. As participants are enrolled during their incarceration, the curriculum and mentor-ship is tailored to their individual needs and interests. Participants who complete the required number of sessions earn a certificate, besides being linked to formerly incarcerated role models and a support infrastructure that guides them from incarceration through reentry.
The overall theme of the program is, "It's Never Too Late To Change," and participants complete assignments connecting this theme to their own experience. Another key emphasis of the curriculum is exploration of how to be a mentor to someone else. The following questions drive discussions throughout the program: Who are you today? Will a mentee listen to you? Have you really changed? Can you be trusted? Are you willing to give up personal time for someone else? What values do you have that can positively affect someone else? Are you motivated to help guide someone in the right direction? How far are you willing to go to help someone that cannot help themselves? What does it mean to you to be a role model?
Besides these questions, the curriculum focuses on the following major topics: Nine Steps to Street Gang Recovery, Domestic Violence Prevention, Mind Your Business (Self-Help and Self-Assessment Skills), Straight Talk On Point (Communication & Soft Skills), and Resume Development & Interview Skills. Other modules are added according to the specific needs of participant cohorts.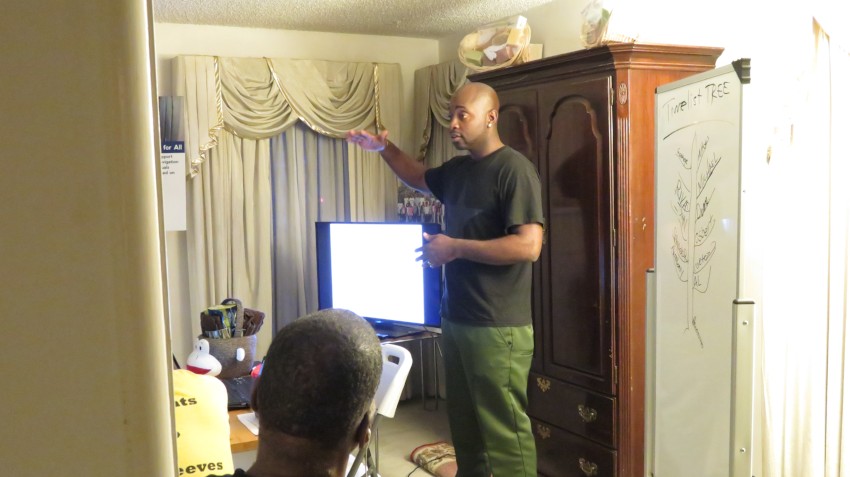 Clint A. Richardson, Lead Counselor/Mentor